Maple Class
Sian Peel (speel) on: Maple Class
Maple Class have continued to work on their topic Healthy Heroes/Sporting Legends this term. We have visited a farm shop to buy produce to make a healthy fruit salad and our sensory learners did some fruit printing artwork with the fruit we purchased. We also visited an allotment where we learned a little about looking after plants and we erected a scarecrow. The pupils have been researching the artist Ben Mosley, who is famous for his individual style of sporting and architectural artwork. They have produced their own pieces of art in his style. We were lucky enough to be joined by Ben Mosley in a virtual meeting where the pupils were able to ask Ben about his work and show him some of the work they had made. The pupils were very excited about the meeting and we are very grateful to Ben for kindly showing an interest in our pupils and their work.
Some of the pupils in Maple Class are undertaking the Duke of Edinburgh Award. They have been going on walks each week in preparation for a whole day expedition to Roddlesworth Woods, which will take place on 13th July. They have been learning how to put up tents and have visited stores to see what equipment they would need for a safe camping trip. On the 14th July they will be erecting a tent on the school grounds and they will be supported to make their own barbeque lunch.
We held a Sing-a-Long in school this week which was attended by some of the pupil's parents. The theme of the Sing-a-Long was musicals and each class chose to perform a song from a different musical. Maple Class chose Mama Mia. We have been rehearsing and learning the sign language and words of the song Dancing Queen. The pupils dressed up and helped to make props for their song. They gave an amazing performance and if you were able to come and watch we hope you enjoyed it.
Earlier in the term we had a weeklong celebration of the Queen's Platinum Jubilee. The children enjoyed themselves participating in all the different events and as promised in our last blog, we have included some pictures of them, along with some of the things we have been doing over the course of this term.
It has been a very busy year in Maple Class and we are very proud of the effort and work all the pupils have put into everything they have participated in. They are an inspiration to us all.
---
Class 6
Sian Peel (speel) on: Class 6
Class 6 has changed quite a lot this academic year. Seven new pupils have joined us from Classes 4 and 5 and we have a new pupil, Laura, who has come to us from another school. She has settled in really well and we hope she will be very happy here at the Coppice.
Steph is the new class teacher and we have a new teaching assistant, Celeste, who along with Ashleigh, Moira and Josie make up the staff team.
Our topic for this term is Music Mosiac. We are looking at music across the decades from the 1950's to the present day. For the 1950's we have focused on Elvis Presley. We have looked at the costumes he used to wear on stage and we made our own white sparkly material like the one used to make his famous white suits.
We have also been listening to a lot of his songs. One of our favourites is 'Bossa Nova Baby' which Elvis sang in the film 'Fun in Acapulco'. We have watched Elvis singing this song and have then made a video of ourselves playing along and dancing to it. Each of the students chose a musical instrument to play and they dressed up in sunglasses and flower garlands similar to the ones Elvis used to wear. We had great fun making the video and are hoping to show it to everyone in school when it is our class assembly.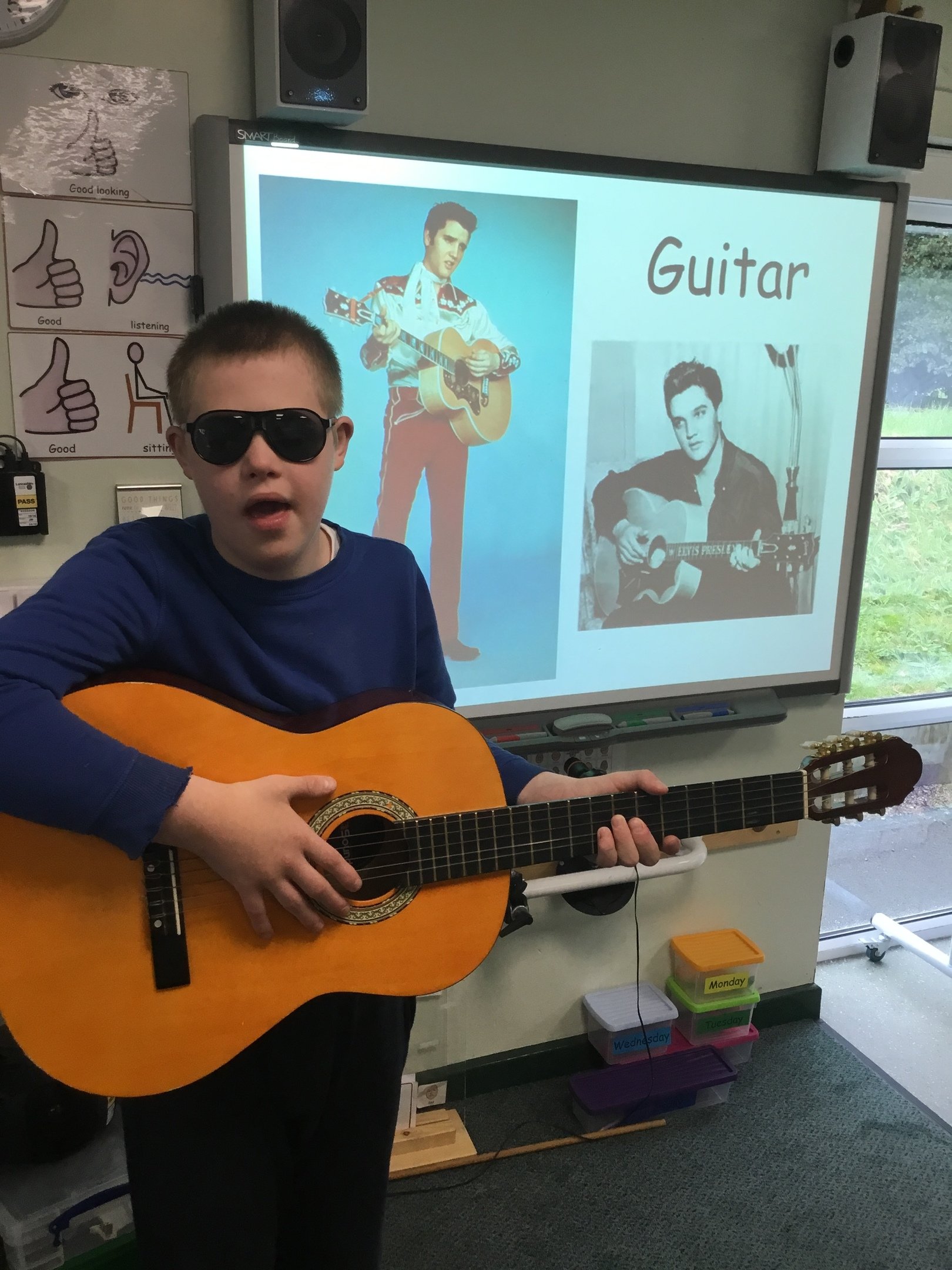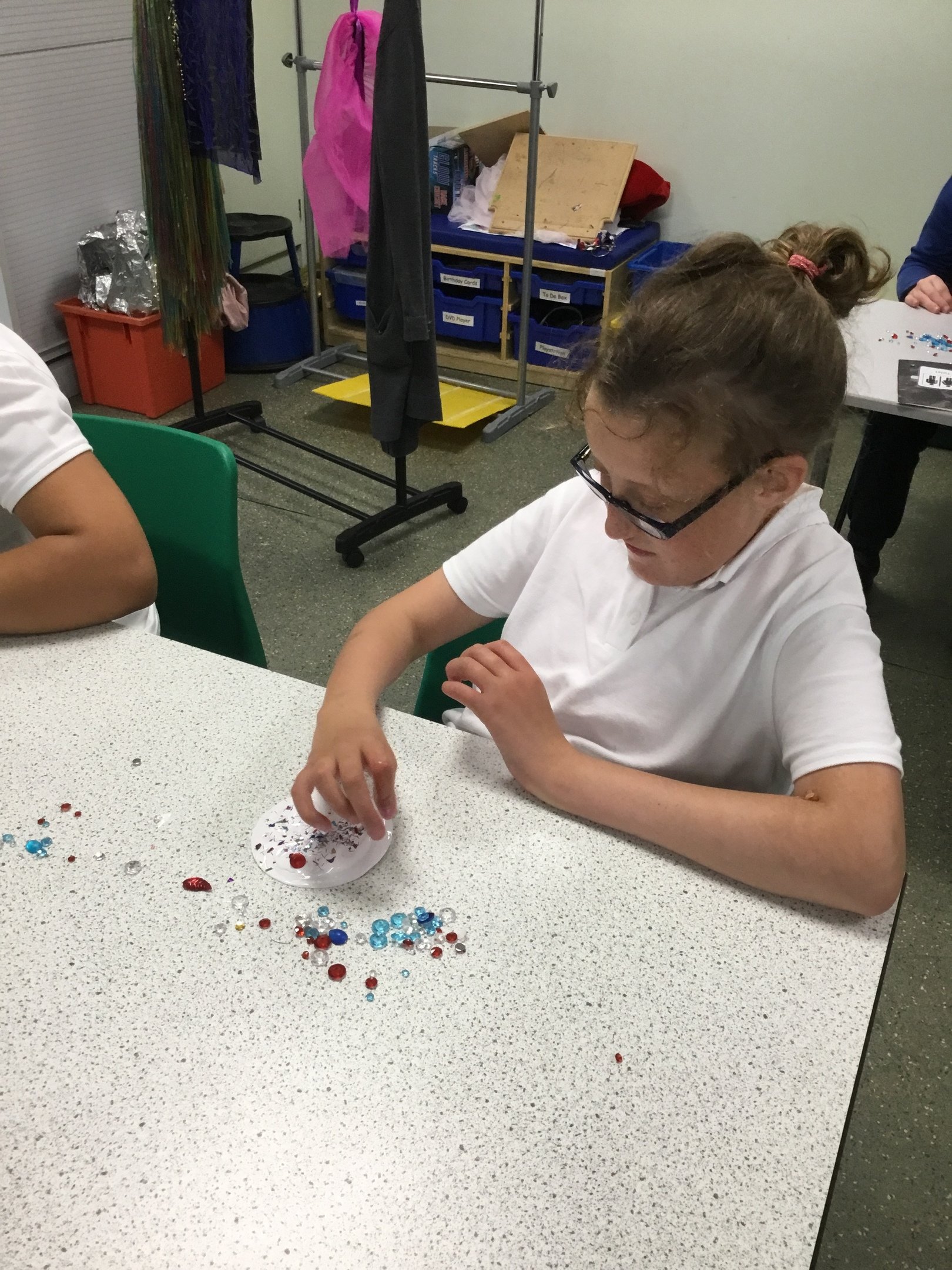 ---